At the same time that the H-D company was proclaiming its non-involvement in racing, William Harley was offering William "Bill" Ottaway (the engineer in charge of Thor's racing department) a position as his assistant at Harley-Davidson.

Born in Canada in 1877, Ottaway studied engineering and mechanics as a youth, and subsequently moved to the United States where he held a number of positions in industry before joining Thor in 1909. Although the Thor motorcycle had never been in the running at the top-flight level of competition, under Ottaway's leadership the Aurora, Illinois manufacturer had posted important wins in enduros as well as on various dirt tracks.

In 1910, the Thor racing team won an important enduro in Philadelphia, and for the next several years Thors were increasingly in contention. By 1913, Ottaway's "tuned" motors were setting nationally recognized dirt track records. The Thor engineer's reputation as a motor builder was well-earned and William Harley's decision to hire him was an inspired choice.



Bill Ottoway

In Milwaukee, Ottaway's first assignment was to engineer the improvement of the basic twin cylinder engine that had first appeared in 1909, but had not been introduced in the marketplace until 1911. The 36 year-old engineer immediately undertook speed-tuning experiments, spending considerable time balancing the H-D V-twin, and modifying it with improvements that he had pioneered at Thor.

Utilizing this modified production engine as his powerplant, Ottaway designed a special racer for limited production, cataloged as the Model 11-K. After extensive testing, Harley-Davidson entered their new racer in the 1914 Dodge City, Kansas 300-mile road race.

Although only two of their six entrants were still running at the end of the race, Harley-Davidson made an initial strong showing when one of their machines was practically tied for the lead at the 120-mile point with the eventual winner, Glenn "Slivers" Boyd (who earned his nickname in 1909 after a board track fall which resulted in numerous splinters) who was riding a standard-valve Indian. Ironically, Bill Briar, riding an Ottaway-tuned Thor racer, placed second in the first running of the Dodge City Classic.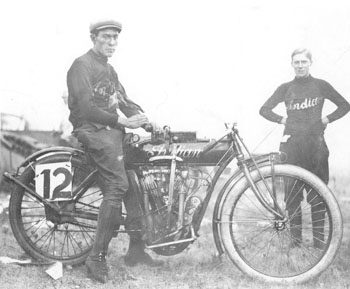 An exhausted and filthy Glenn Boyd after his victory at Dodge City



Both William Harley and William Davidson attended the race and were noticeably pleased with their motorcycle's speed. Harley-Davidson's entrance in a major race, with machines that were obviously prepared for competition, announced the change in their company philosophy. The two founder's comments at the race, however, suggested that in the future their participation would be limited to supporting dealers interested in racing; no factory team was to be established.

This changed in November of the same year when Milwaukee fielded its first fully-supported factory team at the Savannah 300-mile National Championship road race. Irving Janke, one of six H-D entrants, finished a strong 3rd behind Indian and Excelsior. Sports writers noted in the trade press that Bill Ottaway's careful team organization and attention to reduced pit stop time had much to do with their excellent showing.