The foremost promoter of circular, wooden speedways built in the United States was a famous English bicycle racer with the imposing name of John Shillington Prince. Born in the industrial city of Coventry in 1859, Prince grew up in the age of the high-wheel bicycle. From the very beginning "Jack" Prince was fascinated by the two-wheelers, and soon after learning to ride, he began to race. By 1880, the 21 year-old Englishman was considered a world champion.

In 1889, Prince left England to represent British cycle interests in the wildly expanding American marketplace. To establish himself, the 30 year-old English champion resumed bicycle racing in America. At a celebrated race in Omaha, Nebraska, Prince won a match race that was billed as the high-wheel championship of the world. Shortly thereafter, he gave up selling English bicycles and went into business as a promoter of bicycle velodromes.

By 1909, Prince had expanded his endeavors to include board tracks designed for motorcycle racing, such as the Los Angeles Coliseum, as well as larger tracks for automobiles. The larger tracks, such as the one Prince built in 1910 at Playa del Rey, were granted sanctions for a limited number of major car races. Consequently, track operators would also stage motorcycle races to generate additional revenue.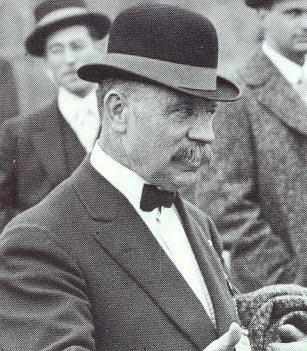 Jack Prince, 1916



Jack Prince's reputation in the racing "game" combined with his formal English mannerisms, who contemporaries compared to those of Prince Albert, gained him the respect of the men who sought his expertise. If a community aspired to the status of an Indianapolis class of speedway for their city, the man they called upon was Jack Prince. Businessmen from Beverly Hills to Altoona engaged the former world champion cyclist to develop, what they hoped would become, a nationally recognized motor-sport attraction for their own community.

Prince's motordrome designs were mostly "seat-of-the-pants," an expansion of his earlier sketches for bicycle velodromes, rather than formal construction drawings. The dapper Englishman, wearing his trademark Derby hat, would walk around the site, driving stakes into the ground to mark the layout for the new track. In a grand manner, the board track impresario would hire hundreds of carpenters, and schedule railroad car deliveries of millions of board feet of lumber and tons of steel spikes.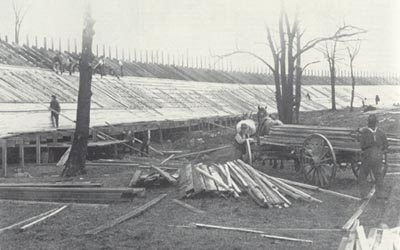 Uniontown (Pennsylvania) Boardtrack, under construction in 1916



Within weeks the race track would take shape, followed by grandstands for the spectators and track-side towers for the officials. When completed, Prince would turn over the management of the track to the local owners and leave for his next assignment. As time went on, tracks tended to be 1/2-mile or longer in order to accommodate automobile racing. It was also believed that the shorter tracks were inherently dangerous. Racing features included grudge races between feuding riders (such as DeRosier and Balke) and match races between cars, motorcycles and even airplanes.

Many of the promoters were grossing huge sums of money, and $10,000.00 daily gates were not uncommon. With the prize money that was offered in addition to their salaries, professional factory riders could earn upwards of $20,000.00 a year. Speeds continued to increase, until finally, at Prince's Playa del Rey, California board track, Lee Humiston set a record that would finally eclipse the Indian giant.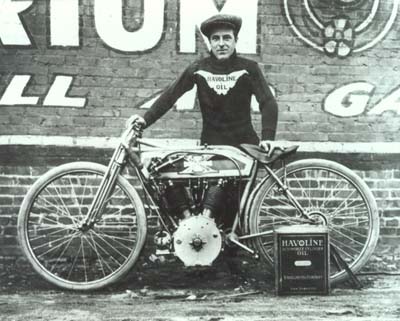 Lee Humiston



On December 30th, 1912, Humiston circled the banked one-mile oval on his direct-drive Excelsior in 36 seconds flat, to become the first motorcyclist in the world "officially" timed at 100 mph. One week after his milestone accomplishment, "The Humiston Comet," (as he was promptly nicknamed by the press) surpassed DeRosier's record for 100 miles, trimming nearly seven and a half minutes from the fatally injured rider's best time.

Excelsior had won the race to the magic 100 mph mark and they had smashed the Indian-held record for the 100-mile distance as well. The publicity was enormous. Every school boy in America knew that a man had traveled at 100 miles per hour on a motorcycle, and that he had accomplished this feat on an Excelsior built in Chicago.