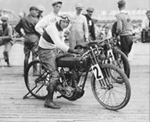 Recently I received this letter
from Don Emde:
Hi Daniel,
It has been a while since I've been to your website, but I was on there this morning and came across your questions about the photos from 1923 or 1924.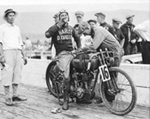 I wanted to pass on that I recently acquired some more old photos and the one of them is the same as yours with the #16 bike. This is Joe Petrali and I believe this is at the July 4th, 1924 ( no, make that) 1925 boardtrack race at Altoona, Pa.

After I got the photos, I looked up the race in one of my magazines and sure enough, it said that Petrali was entered on an Indian, but that after Ralph Hepburn (#2 in your photos) crashed earlier in the day, the Harley team let Petrali ride Hepburn's bike in the 100-Mile race and Petrali won it.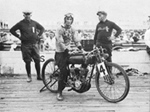 Jim Davis (seen on the #4 bike) won an event that day, too, a 10 or 20 -miler, I think.

I hope this is helpful.
Best wishes,

Don Emde

p.s. from Don on January 26, 2001

I just bought a copy of the July 22, 1925 edition of Motorcycling and it has the full report on this race. It's Altoona, Pennsylvania on July 4, 1925. And to cap it off, on page 19 of that issue is a photo of the rider with #7 with the only name you are missing: Eddie Brinck.


Thanks, Don. You're still the champ! - Daniel